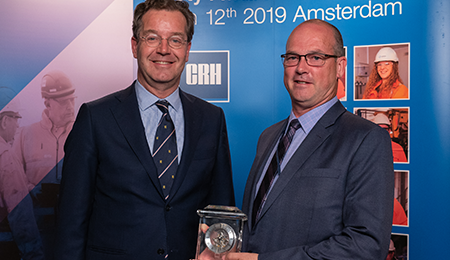 Award winning Cubis Safety Team
Thirty-one colleagues from CRH businesses, plus three contractors, were honoured at the 2018 Europe Safety Awards ceremony which took place in Amsterdam on March 12. Among those receiving an award was Craig Quine, COO of Cubis Systems in Australia.
Craig was awarded the Safety Leadership Award for the roll out CRH's '16 Life Saving Rules' at Cubis and "developing a strong safety culture across the multi-site business". The Safety Leadership Award is awarded based on the acknowledgement of significant work and contribution to health and safety. In light of this, Craig and his team have delivered three years without lost time incidents across four of Cubis' manufacturing sites.  
 CRH's 16 Life Saving Rules include:
Contractor safety management

Machinery safety

Isolation

Electrical safety

Site transport safety

Forklifts safety

Mobile phones

Haulier safety

Construction project safety

Purchasing for safety

Lifting

Work at heights

Confined space entry

Lone/remote working

Drilling and blasting

Conveyance and storage of material under pressure
Speaking about CRH's 16 Life Saving Rules, Craig says that, "These rules are designed to give clear specific requirements to ensure the safety of everyone at CRH. They are mandatory and nonnegotiable and give us the opportunity to learn from past accidents and to prevent repeat accidents in the future. They ensure that the standards that we operate to are not only from site to site, but also from country to country and culture to culture. Additionally, the rules are a location-based work and safety regulation and requirement."
Craig continues, "While it's nice to be recognised from a leadership standpoint, it's important to acknowledge everyone's contribution in ensuring a safe workplace. We still have a lot to do to achieve the standard and level that we aspire to – zero accidents."
With the end of April wrapping up Cubis' Safety Awareness Month, Craig takes the opportunity to acknowledge the journey that Cubis has been on with regards to safety, as well as the improvement in housekeep and the identification of hazards, "We encourage everyone company-wide to take the opportunity to identify potential risks. The operations and executive team are committed to eliminating risks where possible."
Working in a high-risk industry, we are encouraged to take example and inspiration from the leadership of safety award recipients like Craig Quine, to ensure that we manage workplace and work site safety risks every day. Cubis is committed to all aspects of safety in both the workplace and out in the field.
To keep up to date on Cubis news, make sure you follow our LinkedIn Cubis Systems - Australia for the latest updates.