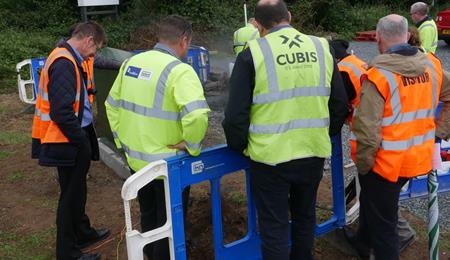 Training Day: Conductive Concrete Retrospective Install, BT Openreach
Cubis recently hosted a customer training day at its head office in Lurgan Northern Ireland. The live demo training installation was held for the introduction of the new Conductive Concrete retro fit application that will be used as part of Openreach NGA (Next Generation Access ) project that is being rolled out to enhance fibre networks across the UK. The day started with a live installation of an Openreach cabinet installed and supplied by KN  Networks. Product training was carried out on-site to advise site operatives on the process for installing Conductive Concrete to existing Openreach cabinets.
Cubis' National Sales Manager (UK & IRL): Stephen Warke had this to say about the training day:  
"It was great to get our customers to our head office and show them first-hand the installation process of the retro fit conductive concrete earthing method.  We also had the opportunity to sit down and discuss the benefits and get direct feedback from our customers on the product itself. I would just like to thank the customers for coming and KN Networks for installing the Openreach Cabinet".   
For more information on Conductive Concrete please visit www.conductive-concrete.com