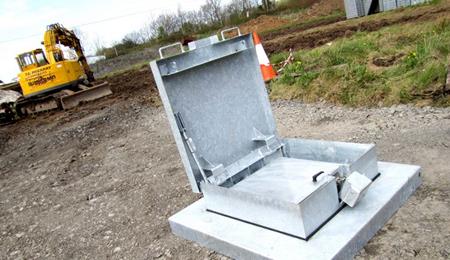 LPCB approve Citadel
Cubis' new range of steel fabricated access covers has been accredited to Level 4 of LPS 1175 (Issue 7).
This standard, designed by the Loss Prevention Certification Board (LPCB), sets tests that classify the intruder resistance based on attack tools, times and methodology. LPS 1175 is a requirement for access covers in many industries, in the UK and internationally, due to this extensive testing regime.
Specifiers should select Level 4 covers in high risk areas such as urban sites with a history of serious vandalism or where there is a threat of terrorist attack, such as Critical National Infrastructure sites.
The high-security access cover range, known as Citadel, is available in upstand format in a wide number of sizes and in single, twin-leaf and triple designs.
Named after a citadel, which is defined as a strongly fortified place, Cubis' LPCB certified cover range is available in an 'upstand' type design.
Upstand access covers are fitted on top of the finished structure and stand proud of the finished structure. Upstand covers provide a fully waterproof access point.
Citadel covers also offer options for:
Fall protection, including safety hinges
Single or double skin options for additional security
Insect mesh
Cubis has been designing and manufacturing standard solid-top and upstand steel covers since 2003 and has supplied clients such as United Utilities, Yorkshire Water and NI Water with products in a variety of sizes and designs.
Cubis' certification number in the Red Book, which categorises compliant businesses and their products, can be found under 1294a.