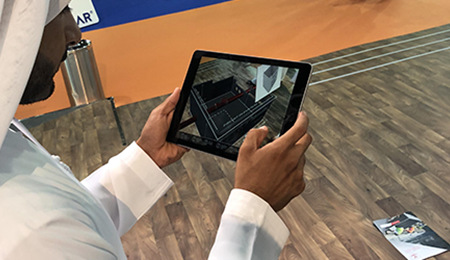 Augmented Reality; Opening the Door to Helping Customers Understand the Systems Approach
Being at the forefront of product innovation and change within the network access and cable protection industry, Cubis Systems Middle East has launched its partnership with local distributor - Midland at Wetex exhibition in Dubai. As part of this launch Cubis has showcased the use of using Augmented Reality (AR) technology to demonstrate Cubis' STAKKAbox™ ULTIMA Connect product range.
AR, is a technology enriching integration between the real world and a digital-computing interface. By overlaying virtual objects in real time in the real-world user can see what their new furniture or kitchen will look like in situ to scale. For Cubis it opens the door to helping customers understand the systems approach to network access and cable protection systems. Helping customers to see how Cubis products can help them to deliver the project they are undertaking. 
Cubis' Business Development team have been using the technology at the WETEX exhibition taking place on the 23rd - 25th October in Dubai. Cubis utilised AR to help educate visitors, on how the STAKKAbox™ ULTIMA Connect network access pit system, can be constructed and used to improve the customers understanding and experience. 
STAKKAbox™ ULITMA Connect is the next generation in pit access systems, a modular scalable pit that can be built on-site with easily connectable components. Significantly reducing costs of in-situ construction through time savings used within a wide variety of sector applications.   
The AR app is just one of many ways Cubis keeps on innovating with ways in which to interact with customers, allowing them to experience Cubis products in a more interactive way.